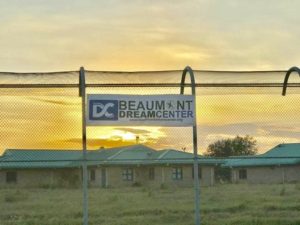 On October 31, 2017, the Beaumont Dream Center got the keys to the new campus! It was a vacant juvenile facility sitting on 50+ acres with 13 buildings onsite. To God be the Glory as He has made this happen for the Dream Center!
Now the real fun and hard work begins! The first order of business is the landscape. With that many acres, we need help with mowing and the upkeep of the landscape. Our first event will be a Mowdown on Saturday, November 18th starting at 10am. We are in desperate need of a tractor with bush hog. Also, we need an army of volunteers on this day to get the campus looking nice from the start! If you can volunteer, please bring your lawnmowers, trimmers, hedgers, wheelbarrow, rakes, push brooms, work, gloves, etc. It will be a fun day of bringing the community together to make the new campus beautiful.
For more information, contact (409) 234-5255.