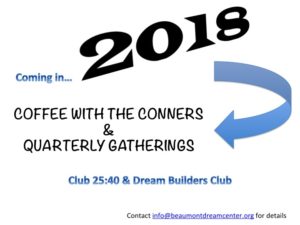 We are looking for others that have the same heart and passion to help people of Southeast Texas. It's going to take the whole community to help make this new Dream Center Campus operational in 2018. Be part of something big and make a difference!
You can partner with us in various ways. First and foremost we need your prayers! Also, there will be plenty of opportunities to volunteer in 2018. Keep up with the latest information from the calendar of events on the website, follow our Facebook page or sign up for the newsletter. You can also support the Dream Center financially through the Club 25:40 or Dream Builders Club. Email us at info@beaumontdreamcenter.org to find out how.
We look forward to having you part of our Dream Team!